Stop Inappropriate Dog Barking Without Crushing Its Spirit
If you are dealing with a barking dog and you want to know how to stop the seemingly continual dog barking, it's helpful to understand the facts surrounding the problem. From the non-barking wild wolves from which our canines descended, man saw the advantage of a loyal barking companion. We selectively bred barking into domestic dogs over thousands of years of their evolution. Opposite of wishing to stop or end dog barking, vocal dogs were prized and their genes were privileged.
Certain breeds of dogs have a propensity to bark more than other breeds, such as dogs traditionally bred as watch dogs. Therefore, when getting a new dog, certain traits associated with specific breeds need to be considered to avoid barking-related problems.
To stop a dog from barking, try to understand what it needs.
When your barking dog seems to be barking at nothing you can be certain the dog is barking at something, even if it's barking for your or someone's return or hearing a neighbor. Continuous barking that starts after you are gone for 20 minutes or so and continues incessantly could be separation anxiety, a psychological condition that requires some extra attention and training.



Try to rule out the obvious causes.
If it is the end of the day, a dog that is barking could just be vocalizing that it's hungry, or asking for some needed exercise or a bathroom break. Dogs are pack-oriented and social animals, and since you and the family comprise the dog's pack, expect your dog to bark and maybe not stop barking if left alone for long periods of time.
You have ruled out the obvious, now what?
You are sure you have given enough exercise and attention but still can't stop the dog from barking. Continue to try to identify causes. Barking is caused by either an external or internal stimulus. Attention-getting barking arises from internal distress. Barking intended to sound an alert arises from a passing person, other dog or vehicle as the case may be.
Barking due to internal stimuli can be addressed by training.
Ignore an attention-getting barking dog until it settles, and then reward it after settling down. Or, hold the snout firmly, gently say "shhh", and then reward the right response.
You corrected the dog already and now it's barking at you.
You must be a little astute to know for sure, but you could be dealing with a dog talking back in a dominance tug-of-war for authority. A little dominance training is necessary, which does not involve physical punishment.
Need to stop the dog from barking but only barks when not there
This can be addressed by a good training program, part of which will not only address the barking issue but the possibility of separation anxiety as well. Anxiety stress is not pleasant for your pet and homeopathic remedies to reduce stress and anxiety while promoting relaxation are available to assist in the solution. Herbal and homeopathic ingredients manufactured under FDA registered processes are known for their calming and soothing effect to reduce anxiety and stress with no risk of side effects or addiction for animals of all ages and sizes. See below for details on HomeoPet Anxiety Relief, PetCalm, Genesis Resources Anxiety & Stress, and Pet Essences Calming Solution. Barking when you are present is easier since you can correct the barking with proper correction and then praise when the dog responds obediently. Dealing with the problem when you're present may also prevent nuisance barking from happening when you're away.
For the barking attention-seekers
Ignore them entirely and wait out the barking episode. This requires patience. The important step is to reward them immediately upon stopping.
The quick draw
A mixture of water and citronella or vinegar solution (one part vinegar/citronella to eight parts water) loaded into a squirt water pistol has a strong chance of getting the "no bark" point across. However, you must be a quick draw at the moment or the point is lost. Aim for the chest, not the face. Or, an anti-bark collar containing citronella oil is a humane behavior modifier. Its spray is triggered by barking, and can be an effective tool for distracting the dog from barking. It is important to note that it is possible but not usual that some anti-bark collars can be triggered by dogs barking in very close proximity to the one wearing the collar, resulting in inappropriate correction. These collars are not appropriate in multi-dog homes, where one dog's bark can cause the non-offender to be corrected.
Physically correct
Do not be violent, inhumane, cause pain or frighten. When the dog is barking inappropriately, get down to its level, firmly wrap one or both of your hands around the snout (don't shake it), and repeat your corrective command of SHHhh, or a sharp no! Your dog can't bark with its mouth closed. Hold on until it stops making noise and stops resisting the placement of your hand by trying to wriggle away. This also asserts your dominant role in the process. Dogs are not children and they find security in a pack leader that leads and who they trust.
If the dog is on a lead and has been trained to respond to a quick corrective tug accompanied by a SHHhh, or sharp No, this is an easy, good method to end barking.
Never yell
Your dog is barking because it needs to tell you something, maybe that it needs a bit more attention. Yelling will upset and confuse your pet and cause it to bark even more. As always, give praise when the barking stops.
Your dog's voice is beautiful.
It is unrealistic and unfair to not allow your dog to express itself and bark, nor should you
always expect the dog to immediately silence itself when barking. If the dog needs to alert you to something and has been discouraged from speaking up, this can have dangerous consequences for you and the family. If the dog is barking to alert you to someone's arrival, allow it to do its perceived job and thank the dog for its efforts. Unfortunately, there will come a day when you will miss that voice.

Related Topic: Citronella Bark Collar

Dog Training With

Secrets to Dog Training

...


Thanks to this powerful insider information, over 66,276 dog
owners worldwide have been
successful with their dog training, and solved their dog's behavior
problems.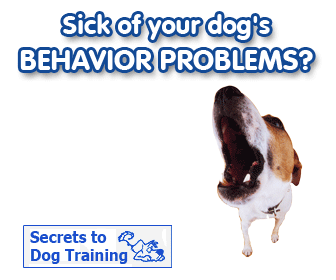 Recommended Homeopathic Products Known For Their Calming & Soothing Effect to Reduce Anxiety & Stress
PetAlive PetCalm Effectively reduce stress & anxiety while promoting relaxation Treat anxiety in pets with anxiety disorders or nervous dispositions. Help your pet cope during times of domestic stress. May be used regularly or as needed.

HomeoPet Anxiety Relief Homeopathic formula promotes calm in animals experiencing fear, fretting or anxiety from separation, being left alone and other stressful situations or environments. 12 years of researching only the finest ingredients.

Genesis Resources Anxiety &
Stress Comprehensive dietary supplement for dogs exhibiting nervousness, hyperactivity, anxiety or responding to environmentally induced stress. Natural ingredients balance calming effects between central nervous system and the heart.

anxious.